EXPOSITION "SOLEIL ET PLANETES" ET ANIMATION PLANETARIUM
GRENADE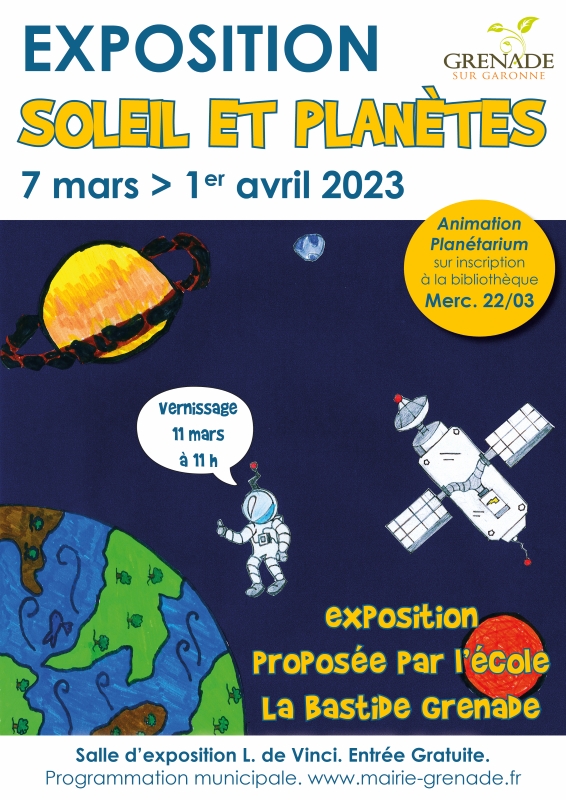 Description
L'exposition « Soleil et Planètes » réalisée par l'école La Bastide se tiendra du 7 mars au 1er avril 2023 à la salle d'exposition municipale Léonard de Vinci.
La municipalité vous invite à son vernissage le samedi 11 mars à 11h. Une fois n'est pas coutume, deux classes grenadaines de l'école La Bastide investiront la salle municipale Léonard de Vinci pour une exposition de leur propre réalisation sur le thème passionnant du système solaire. Les élèves de Cm1/Cm2 de Mme Ludivine L'Hernault et Cm2 de Mme Lilianne Lagare ont conçu des affiches, des jeux, des maquettes et diverses productions plastiques, le tout agrémenté par un voyage immersif et fascinant dans notre système solaire à travers des supports numériques. A l'occasion de cette exposition, la Bibliothèque Municipale invitera, le mercredi 22 mars, Philippe Picgirard de l'association « Rêve de Ciel », et son planétarium gonflable, pour une visite guidée à travers les étoiles et planètes de notre galaxie. Deux sessions de 45 minutes pour les enfants à partir de 7 ans se tiendront à 14h et 15h, et une session pour les plus jeunes (de 3 à 6 ans) aura lieu à 16h (durée 30 minutes). Animation gratuite uniquement sur Inscription (places limitées) auprès de la Bibliothèque municipale au 05.81.33.02.53
Practical information
Theme
Culturelle
Astronomie
Jeune public
Fares / methods of payment / opening times
Opening hours
From 07 mars 2023 to 01 avril 2023


Mardi, jeudi, vendredi 16h à 19h, le mercredi 10h à 17h et le samedi 10h à 12h30.
Contact & location
Contact
BIBLIOTHÈQUE MUNICIPALE
1 Rue Paul Bert
31330 GRENADE
Location
Latitude : 43.769798 - Longitude : 1.294140