EXPOSITION DE ANNE-MARIE VANNIER
SAINT-PAUL-SUR-SAVE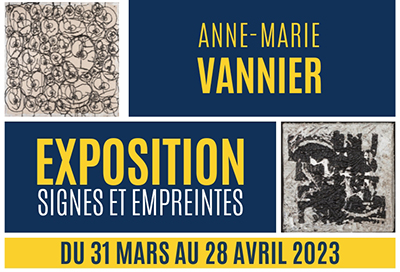 Description
Venez découvrir l'artiste Anne-Marie Vannier et son exposition intitulée "Empreintes et signes" !
A découvrir lors de cette exposition : les œuvres de Mme Vannier Anne-Marie sur le thème des « Empreintes et signes ». L'artiste sera présente à la médiathèque le lundi 17 avril dès 16h.
Practical information
Theme
Culturelle
Art contemporain
Peinture
Fares / methods of payment / opening times
Opening hours
From 31 mars 2023 to 28 avril 2023


Sur les horaires d'ouverture de la médiathèque : Lundi 10h-12h/16h-19h, Mercredi 9h-12h/16h-19h, Vendredi 16h-19h et Samedi 10h-12h.
Contact & location
Contact
MEDIATHEQUE
31530 SAINT-PAUL-SUR-SAVE
Location
Latitude : 43.696159 - Longitude : 1.223850