EXPOSITION "LA COULEUR DES SAISONS D'AUTREFOIS" PAR ODILE MANDRETTE
GRENADE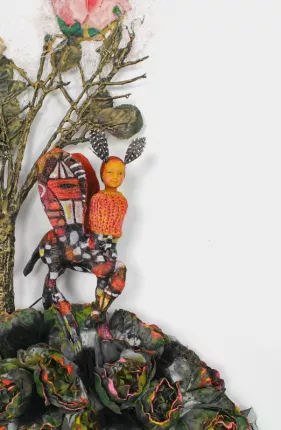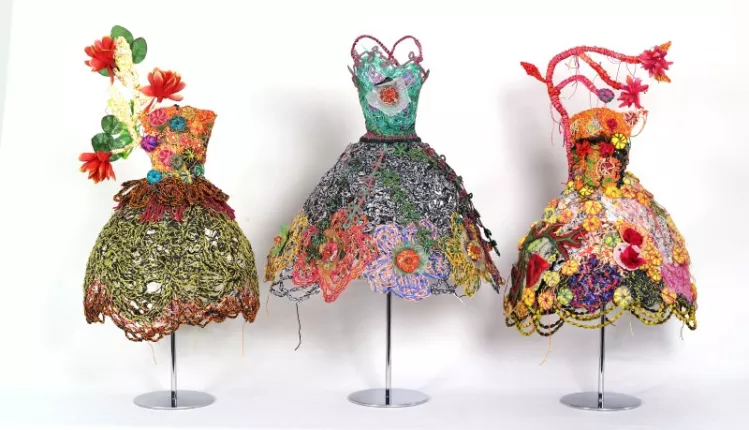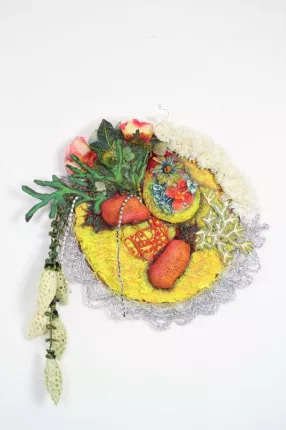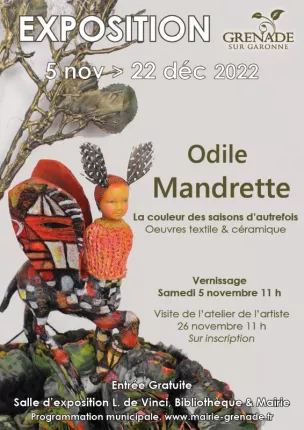 Description
La municipalité de Grenade vous invite à découvrir les créations poétiques et singulières de l'artiste grenadaine Odile Mandrette, dans son exposition « La couleur des saisons d'autrefois ».
Bien qu'il s'agisse de sa toute première exposition dans sa ville natale, Odile Mandrette a déjà une longue carrière artistique derrière elle, débutée dans les années 80 avec des sculptures en céramique. Depuis 2007, elle a participé à de nombreuses expositions majeures d'Art singulier en France. Il y a 15 ans, elle a découvert les infinies propriétés du fil, du textile et du plastique, composant ainsi des œuvres hybrides porteuses de poésie malicieuse. A Grenade, l'artiste va présenter plus d'une quarantaine de pièces de toutes tailles, y compris des œuvres céramiques de sa première période, et quelques unes de ses sculptures - robes « Les filles de l'air », qui avaient été majestueusement exposées dans la collégiale de Loudun (Vienne) en 2016. Lieux : salle d'exposition municipale Léonard de Vinci, bibliothèque, & Hall de la Mairie, du 5 novembre au 22 décembre 2022. Vernissage de l'exposition en présence de l'artiste le samedi 5 novembre à 11h à la salle d'exposition municipale. Visite de l'atelier personnel de l'artiste à Grenade le 26 novembre à 11h (gratuit sur inscription auprès de la bibliothèque). Programmation municipale. Entrée Gratuite.
Practical information
Theme
Culturelle
Art contemporain
Fares / methods of payment / opening times
Opening hours
From 05 nov 2022 to 22 déc 2022


Horaires d'ouverture de la salle d'exposition (accès par la Bibliothèque municipale) : Mardi, jeudi, vendredi : 16h-19h, Mercredi : 10h-17h et Samedi : 10h-12h30.
Contact & location
Contact
SALLE D'EXPOSITION (ACCÈS PAR LA BIBLIOTHÈQUE MUNICIPALE)
1 Rue Paul Bert
31330 GRENADE
Location
Latitude : 43.769798 - Longitude : 1.294140