EXPOSITION DE SCULPTURES "INSTANTS FURTIFS" DE MAGGY ANCIAUX
GRENADE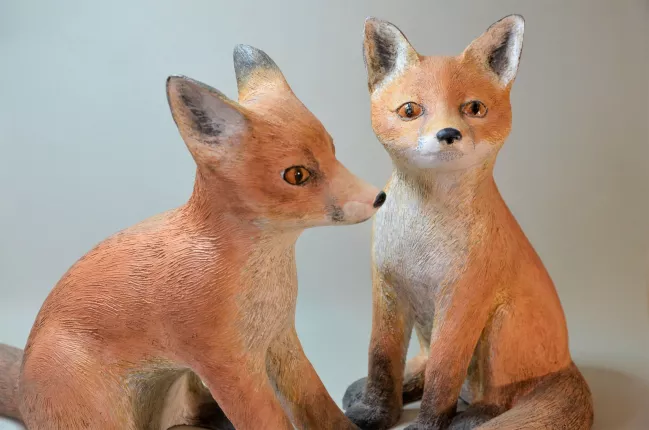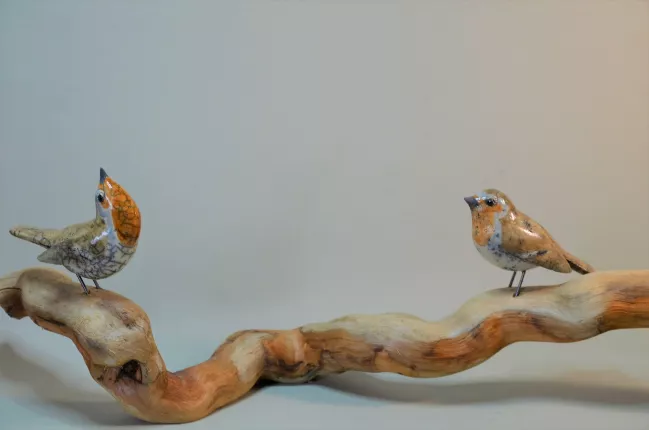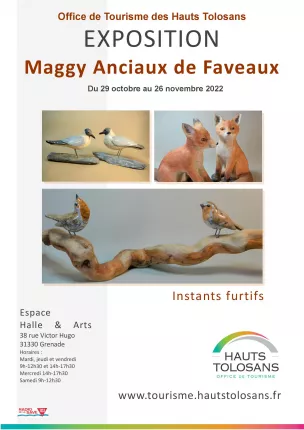 Description
En novembre l'Espace Halle & Arts vous propose une exposition de sculptures présentée par Maggy Anciaux. Des "instants furtifs" composés de petits animaux dans leur environnement naturel.
Au détour d'un chemin, jouant en bordure d'un champ, des re-nardeaux se laissent observer avec insouciance, puis d'autres jours, d'autres rencontres...le lièvre, le martin pêcheur à l'affût au bord d'un ruisseau, le faucon crécerelle,… Tout est prétexte pour provoquer et immortaliser dans l'argile ces moments d'émotions. Des supports en terre, pierre ou bois sont choisis pour représenter l'animal dans son environnement. A découvrir dans l'Espace Halle & Arts une vingtaine de sculptures et dessins de la nature à l'état pur. Maggy Anciaux de Faveaux utilise l'argile depuis de nombreuses années pour réaliser des oiseaux et mammifères sauvages de France et d'Europe. Ils sont représentés grandeur réelle tout en gardant une liberté artistique. Elle participe aux salons d'art animalier en France et à l'étranger et souhaite à travers ses sculptures sensibiliser au respect de la Nature. MATINEE RENCONTRE : Venez échanger et rencontrer la fille de Maggy le samedi 19 novembre.
Practical information
Theme
Culturelle
Animaux
Eco-responsable
Sculpture
Fares / methods of payment / opening times
Opening hours
From 29 oct 2022 to 26 nov 2022


Sur les horaires d'ouverture de l'Office de Tourisme. Le Mardi, jeudi et vendredi de 9h à 12h30 et de 14h à 17h30, le Mercredi de 14h à 17h30 et le Samedi de 9h à 12h30. Matinée rencontre 19/11/2022.
Contact & location
Contact
OFFICE DE TOURISME DES HAUTS TOLOSANS
Espace "Halle & Arts"
38 Rue Victor Hugo
31330 GRENADE
Location
Latitude : 43.772579 - Longitude : 1.293684